Malaysia's universities were scheduled to fully reopen on 2 October. On that same day, and in the face of rapidly rising COVID counts, the Ministry of Higher Education directed all institutions to shift all instruction and registration online – a move that not only caught the country's universities off guard but that also led to a backlash from students and parents that had already booked courses, travel, and housing for the academic year.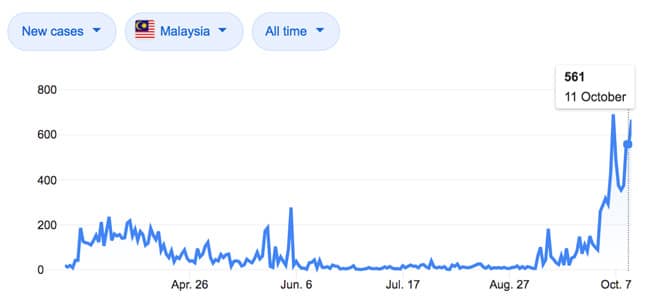 Malaysia's Immigration Department issued a related directive on 4 October that postponed entry to the country for all international students until 31 December 2020. On 6 October, immigration officials further advised that incoming students must arrive before 8 October, after which point they would not be permitted to enter the country: "All international students that have received the Travel Authorisation from the Director General of the Immigration Department of Malaysia through EMGS must arrive in Malaysia before 8th October 2020. International Students that arrive after that date will be issued a 'Not To Land (NTL)' notice to restrict their entry to Malaysia."
Chaos and confusion
National Association of Private Educational Institutions President Elajsolan Mohan told The Star that it was unfair to stop the entry of foreign students on such short notice. "Some were on their way here and some had already arrived at [Kuala Lumpur International Airport]," he said. "This sudden announcement will give Malaysia a bad image, subsequently affecting our status as an educational hub and our economy."
Malaysian Association of Private Colleges and Universities President Datuk Dr Parmjit Singh added that, "The impact on public HEIs is likely to be catastrophic. The majority of new international students in the second half of the year had decided to enrol with private HEIs and start their studies online. This latest announcement has thrown their plans in disarray, and private HEIs are likely to face unprecedented withdrawal and deferment rates."
In a related statement, the national student association Kesatuan Mahasiswa Se-Malaysia called on government to compensate students for lost travel and housing expenses: "We are truly disappointed and frustrated over the last-minute announcement that was issued by MoHE, which had caused chaos and confusion among students who had arrived at their universities for physical registration for the October semester intake…We are demanding compensation for all these affected students."
Rising COVID counts
Higher Education Minister Noraini Ahmad apologised for the last-minute change but explained that government had to act as COVID-19 cases have climbed sharply in Malaysia through September.https://platform.twitter.com/embed/index.html?creatorScreenName=icefmonitor&dnt=false&embedId=twitter-widget-0&frame=false&hideCard=false&hideThread=false&id=1316200981432999936&lang=en-gb&origin=https%3A%2F%2Fmonitor.icef.com%2F2020%2F10%2Fmalaysia-orders-universities-online-and-restricts-foreign-student-entry%2F&siteScreenName=icefmonitor&theme=light&widgetsVersion=ed20a2b%3A1601588405575&width=550px
The minister advised all students who have already arrived at their campuses to remain in place pending further advice from their universities. She asked students who have not yet arrived to postpone their travel plans.
The Ministry of Higher Education has also made arrangements with Malaysia Airlines (and other carriers) to allow students to reschedule flights for up to a year from their original travel dates without incurring additional charges.
Malaysian institutions have quickly moved their registration processes online through the first half of October, and will continue to deliver instruction online as well.